Industry signs up for free
Artists, management, venues, engineers - you all sign up for free. You'll get unique pages dedicated to you and your events. And you choose who you're using. We'll help you set them up, make sure they look amazing and automatically link through to your upcoming events.
Fans sign up for free
Fans also sign up for free and simply bookmark/pay to view the events they want. Video can be viewed on any laptop/desktop, tablet/mobile device or Smart TV over a browser. You can even view 360-degree broadcasts in VR headsets for total live-teleport immersion.
Why Stage Left?
Bespoke branded pages for your company and events
Dedicated artist pages with event auto-alerts
All your videos together under one professional banner
Easy monetization + best profits in the business
Integrated e-commerce & ticketing
Control your profit split between artists and industry
No ads
No copyright restrictions or censoring
No 'Up next' driving fans to other content
Stream from phone, tablet, laptop or venue
Completely free to use: no software charges
You'll be streaming within minutes
How do I actually stream video to my fans?
OK, so we envisage two broad scenarios depending on your level of equipment and expertise.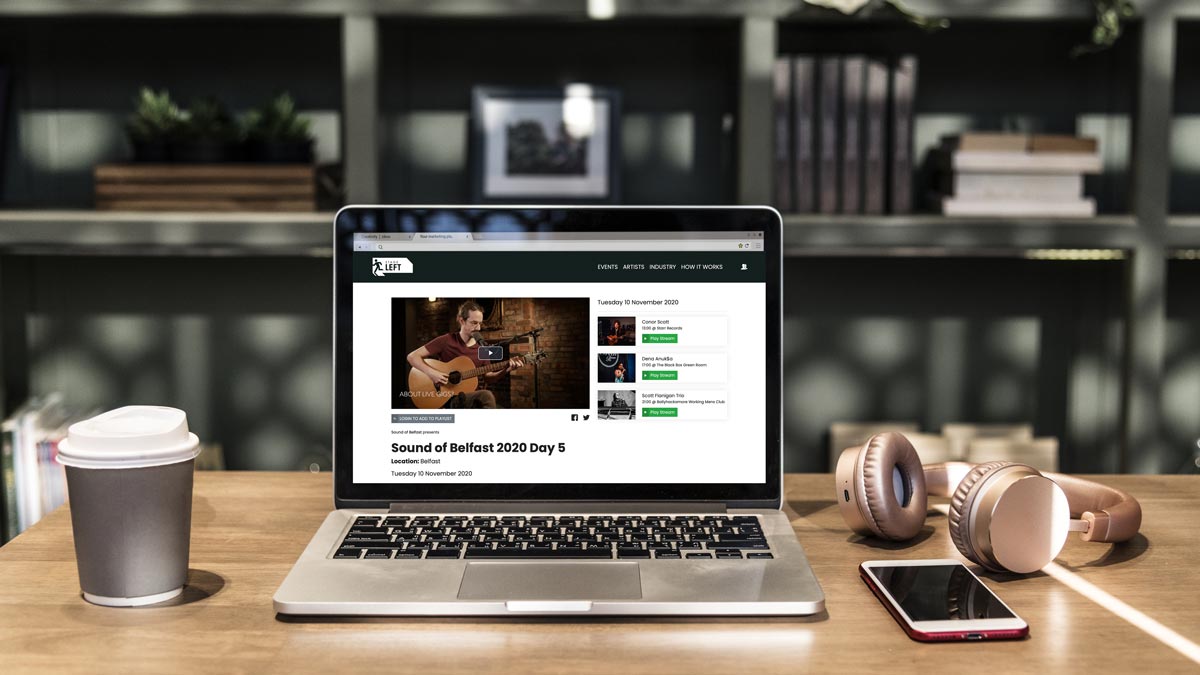 You only have a mobile phone / tablet / laptop. No problem - we'll send you a QR code. You simply scan it and your phone's ready to stream live to the world. It really is that easy!
Set your ticket price, tell your fans & hit the broadcast button. Boom.
You have a great venue with sound desk / lights / maybe multiple artists. A virtual gig. This is our favourite setup because it looks great, and it gives the wider industry a chance to make a living. We can use your sound engineer's mix and switch live between cameras, making the most of your production for a really professional show.
In reality most events fall somewhere between these two scenarios. We might want a virtual festival that mixes live venues with recorded solo streams, from locations around the world ... no problem, we've got you covered.
Complete transparency
We are on your side. The focus here is on getting max income to the people that really deserve it. Artists set the ticket price and decide how much venue / management / crew make from the profits. Our long-term plan is to charge just 10% - to cover all our services, including:
Event management
Promotion of events / artists / channels
All e-commerce costs - including transaction fees, refunds & chargebacks
Artist <> Event streaming setup
Cloud video transcoding / recording
Global content delivery
We are completely transparent so all profits go to you, the guys that really deserve it.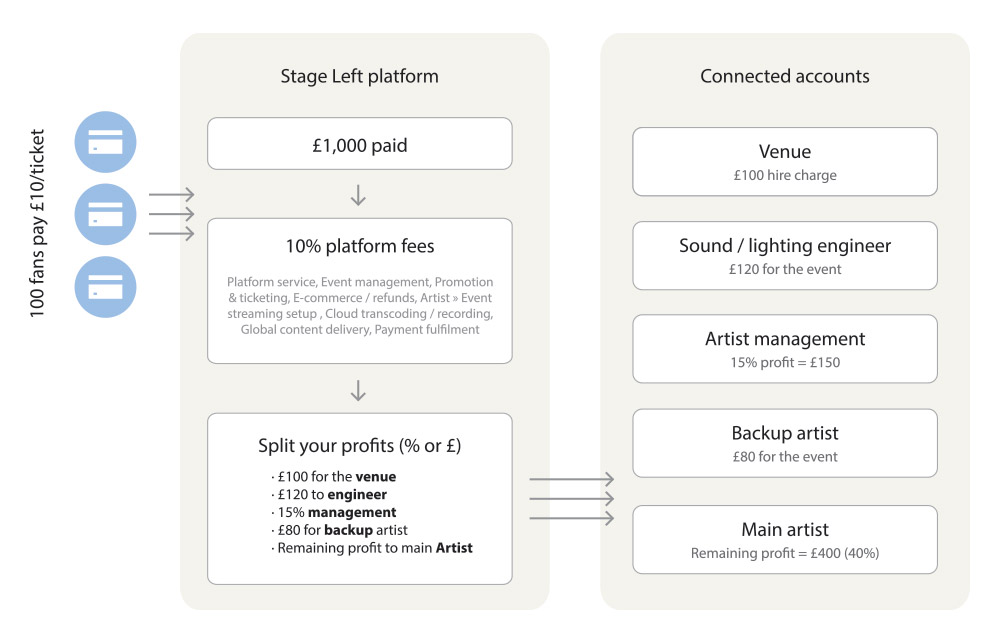 Coming soon:


Exclusive merchandise – we help artists design merch that's unique to each performance. Fans buy it - we fulfil - and artists take the profit. Everyone wins.


Social interaction: front-row tickets so fans can chat with their friends and communicate directly with their favourite artists.